Lindsay Karen Matthews
Memorial Scholarship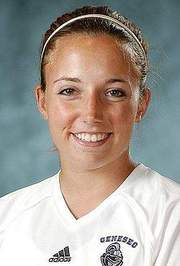 Lindsay graduated from Orchard Park High School in 2007. Lindsay was a sophomore at Geneseo State University when she was killed in a tragic accident in November 2008.
Lindsay was an accomplished student, an honor graduate and an excellent soccer player. She was captain of the Varsity soccer team and was also playing for Geneseo.
Lindsay was an active participant in many high school activities. She worked at the Boys & Girls Club in Orchard Park and also volunteered for the TOPS Soccer program for disabled children. She was majoring in speech pathology.
Two $1,500 scholarships are awarded each year to Orchard Park High School graduates who intend to pursue higher education in a helping profession. The recipients are student-athletes who model seriousness of purpose in the classroom and on the field. They also understand the importance of giving back to the community. Like Lindsay, a recipients actions exemplify sportsmanship over gamesmanship, excellence over mediocrity, and selfless compassion for others above all.

---